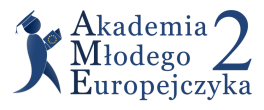 Academy of Young European 2 is a project in the field of informal education implemented by PECSA from September 2016 to August 2018 and co-financed by the European Union under the Erasmus + Program (Jean Monnet Activities). This project is filling...

Connecting the European Union of Shared Aims, Freedoms, Values and Responsibilities / EUSHARE
Polish European Community Studies Association (PECSA) is a non-governmental organization established in 1989 by scientists from the best Polish...
Through implementation of EuInteg project PECSA will try to highlight the new EU priorities and requirements that European Studies should meet in the context of changing national, region and global social, economic and political environment...
During academic year 2013-2014 Polish European Community Studies Association conducts nationwide education project "Academy of Young European". The project is financed by European Commission through Lifelong Learning Programme – Programme Jean Monnet...